Ceiling Fan With LED Light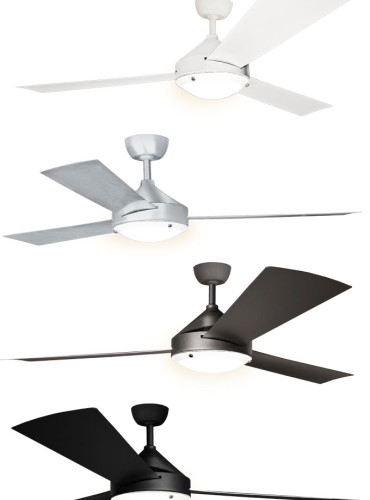 Energy Efficient LED Ceiling Fans
Fans City is proud to be the first retailer in Australia to bring you ceiling fans with LED lights.
These fans feature a 2-in-1 quality, where they provide cooling and lighting solutions simultaneously while cutting down the cost of your electricity bills with their energy efficiency. A ceiling fan with LED lights is truly the perfect choice if you're working within a budget, or simply if you require both lighting and cooling solutions in the same location. Whether your home features a contemporary style or a more traditional approach, the LED ceiling fan is certain to add a stylish accent to complement your home.
Milano Ceiling Fans with LED Lights
The Milano ceiling fan with lights is perfect for both indoor and outdoor use. Designed to withstand the harsh Australian climate, these fans are made with exceptional quality, featuring hard wearing materials and a sturdy construction. You are ensured a peace of mind in stormy weather as well as during the searing hot summer days, as your ceiling fan is guaranteed to remain in optimal working condition, free from the harming effects typically brought on by extreme weather.
The Milano LED Ceiling Fan features:
High grade aluminium cast body with heavy-duty aluminium blade that is totally rust-free.
Double-sealed, high-quality bearings for quiet movement, and bearings protected from moisture and dust.
Heavy-duty blade for maximum air displacement (300m3 per minute).
Reversible motor for summer and winter use.
High-quality LED light and LED driver, build to last.
Most energy efficient fan with light (only 9 watts LED will give you 120 watts equivalent light).
Less electricity consumption and more light.
No hassle to change globes, and the light does not create any heat.
Available in 1200mm, 1400mm and 1500mm diameter sizes.
We also offer a range of colours to choose from to suit your taste. Choose from our classic white, brushed aluminium, matte pewter, and matte black options.
Ceiling fans with LED lights also suit a variety of housing types. Whether you live in an apartment or a country estate, ceiling fans with a light can be the ideal choice for you. If you require advice or suggestions from our experts, don't hesitate to give us a call. We'll help you select the best model for your needs, ensuring that you'll get the most out of your fan from Fans City. Call us on 1300 187 349 today. We also provide free shipping on all orders over $200 Australia wide!
Colours: White, Brushed aluminium, Matte pewter, Matte black